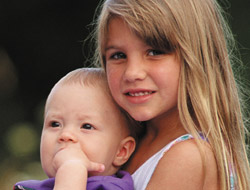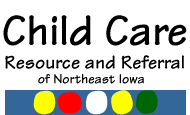 CCR&R provides a wide variety of services for:
• Child Care Providers
• Parents
• Employers
• Community Groups
CCR&R of Northeast Iowa
Exceptional Persons, Inc.
P.O. Box 4090
760 Ansborough Ave.
Waterloo, IA 50704-4090
Ph: (800) 475-0804
E-mail: [email protected]
Providers/Practitioners
Register Online for a Training Class.
(Click Here)Parents/Guardians
Free child care referrals in Northeast Iowa.
Our web referral process has recently
changed, if you encounter any difficulties please contact our office.
(Click Here)
After your search, please complete the
Follow-up FormIf you are looking for child care outside of Northeast Iowa, please click below.
(Click Here)
Child Care Resource & Referral of Northeast Iowa (CCR&R) is a community-based organization that lends a helping hand to people who care for and about children.
By providing resources, education and advocacy, CCR&R helps meet your community's need for affordable and accessible child care.
Because your child care needs are unique, we provide guidance by phone, in person, on the Internet and in other ways that are tailored to you rather than a one-size-fits-all solution. All client information will remain confidential and service is offered without regard to race, color, creed, religion, national origin, sex, age, physical or mental disability or any other classifications protected by applicable federal, state of Iowa or local laws.